SPECTRAL CITIES
Audio - Video - Light live performance /w Christina Kubisch _ 2018
Spectral Cities is a space-filling arrangement of electromagnetic-fields, light-, video- and audiosources, the three artists (Florian Kindlinger, Christina Kubisch, Peter Kutin) interact and compose with. The piece investigates different levels of spectral density in an age of information overload, high frequency technology, and ubiquitous digital media. The artists translate this branches into a realtime composition for sound and vision alike.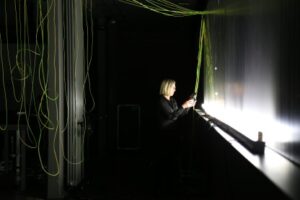 The audiomateriual used in this live-media-performance refers to various congested areas around the globe where the artists have worked, travelled, or lived in – since the beginning of the 21st century. 
Despite a vast diversity of signals and a continuously evolving perspective, the piece reminds us of the fragile state in which we currently find ourselves in: overloaded and increasingly hard-to-navigate.
LIVE DATES :
8 + 9.12.2018 | HeK , Basel
11.12.2018 | Cave12 , Geneva
26.04.2019 | Reihe M – alte Feuerwache,  Cologne
27.04.2019 | Stadtgalerie, Saarbrücken
21.04.2019 | Kunstradio, ORF
Spectral Cities is supported by the SKE Fonds & BKA